GAMDIAS RAFFREDDAMENTO LIQUIDO CHIONE M2-240R 3*FAN ARGB TELECOMANDO + SYNC SOFTWARE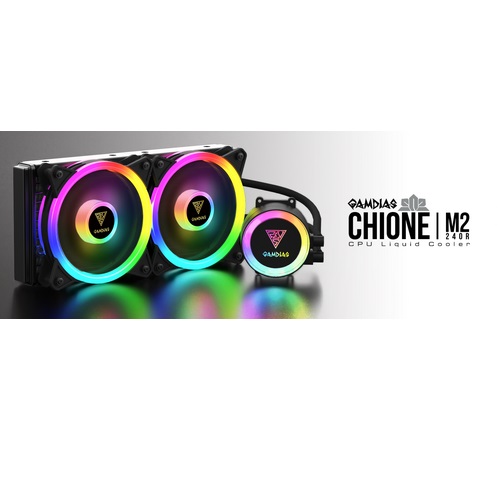 Sales price 59,52 €
Base price with tax 85,40 €
Sales price without tax 48,79 €
Discount 21,21 €
Tax amount 10,73 €
Prezzo standarizzato:
GAMDIAS RAFF.LIQUIDO CHIONE M2-240R 3*FAN ARGB TELECOMANDO + SYNC SOFTWARE
Features:
*Remote Controller Two fans and pump can sync with motherboard software or remote control and can easily switch to 55 lighting effects including Neon-Flex RGB, Multi-color and LED off
*RGB dual rings, fans, ring around the pump, and the logo
*All-In-One CPU Liquid Cooler offer maintenance-free, compact & easy-to-install fan. Both sides can be installed with fans.
*AEOLUS Box adds up to 8 fans & LED port for RGB Pump together to exhibit group lighting effects
*AEOLUS Box attaches to the computer case via magnets
*16+6 addressable RGB LEDs in one fan Daisy chain another AEOLUS Box for more lighting effects
*Teflon Tube Low-evaporation and durable
*Sync to MSI, GIGABYTE, and ASUS Supports motherboard sync software that has addressable RGB header (ASUS), JRAINBOW (MSI) or Digital Pin Header (GIGABYTE)
*Copper Base Plate Outstanding thermal conductivity
There are yet no reviews for this product.